The revised guidance on how the DVSA categorise vehicle defects in roadside checks has now been published. This guide outlines the actions the DVSA will take when they find roadworthiness defects during vehicle inspections.
The new rules are to be enforced from 1st September 2022 – read the revised categorisation document here.
Load security
The majority of the additions are related to load security with individual defects being added and updated. The DVSA believes this will make defects clearer for operators, drivers, and examiners, to help identify and rectify issues.
The changes include updates to suitable securing mechanisms for paper reels, skips and containers.
For light vehicles, there are new load security defects for items being carried directly on the roof panel and insecure loads on a roof rack.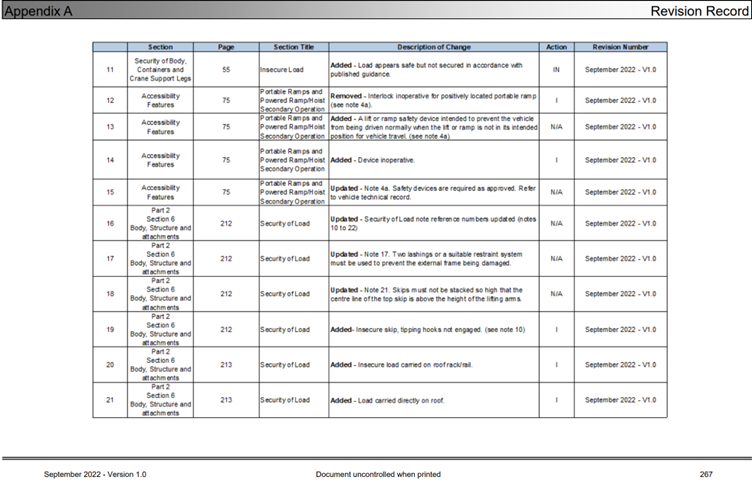 Other changes
There is an updated defect for an inoperative PSV accessibility ramp or lift safety device.
They have also updated the motorcycle section on tyre tread depth, re-cut tread and brake fluid leaks.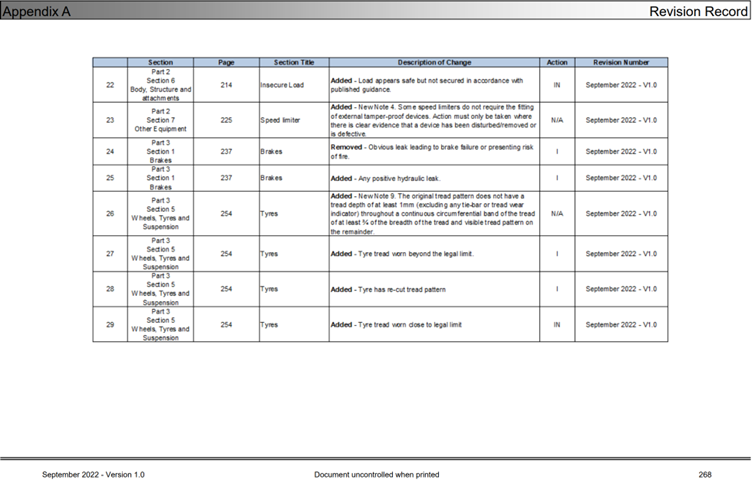 You can see the full list of changes in the final section of the manual (as shown in images above).
It is of course imperative that if any of these changes affect your fleets operation that these changes have been communicated to all parties affected and that the appropriate actions are taking place; including additions to daily vehicle walkaround safety checks.
Descartes SmartCompliance offers a compelling range of compliance solutions including SmartCheck.
SmartCheck provides a complete auditable record of checks, any defects and corrective actions. As with all Descartes SmartCompliance solutions it comes with powerful reporting to turn vehicle check data into useful management information to maintain a compliant transport operation.