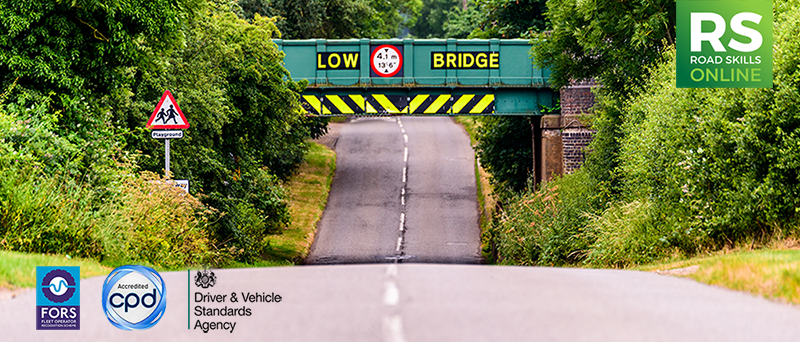 Network Rail research from November 2020 has shown 43% of lorry drivers admit to not measuring their vehicle before heading out on the road, and 52% admit to not taking low bridges into account.
As a result, in the 12 month period leading up to that date, there were 1,714 incidents where road vehicles had hit rail bridges across Britain.
Their research also showed that on average, there are up to 5 bridge strikes per day with this number rising to 14 in the winter.
DON'T BE PART OF THE STATISTICS...
If one of your vehicles is involved in a bridge strike, you could be liable for the full cost of the bridge repair, along with other additional costs such as compensation.
If that's not enough, there's then the very real possibility of legal action to take into account, the damage to your reputation and your brand, as well as the negative impact it could have on your driver's future.
With all that in mind, it's vitally important that you regularly talk to your drivers about the very real possibility of bridge strikes and what they should be doing to avoid being a part of the shocking statistics.
3 CRITICAL POINTS FOR DRIVERS
HEIGHT CHECKS – remind drivers to check vehicle height as part of the walkaround and to recheck if they swap trailers or change vehicles.
HEIGHT INDICATORS – ensure they set in cab indicators correctly after their walkaround check.
BRIDGE SIGNS – stress the importance of looking out for bridge signs warning of height restrictions, and fully complying with them.
Avoiding bridge strikes is not just down to your drivers though - it's very much a team responsibility.
In addition to reminding your drivers of the things they should do, there are some very important things your business needs to be aware of, and take responsibility for.
4 CRITICAL POINTS FOR BUSINESSES
ROUTE PLANNING – risk assess chosen routes for bridges to ensure your drivers avoid them.
RE-ROUTING – ask drivers to phone the office if they are asked to re-route following a diversion sign, allowing you to risk assess if there are any bridges on the newly proposed route.
DAILY DEFECT TRAINING – train your drivers to use the Height Measuring Poles as part of a daily defect check, and to always check after a change in their load, or if they swap trailers.
CORRECT SAT NAV – ensure that any sat nav units you use are specifically designed for the vehicle type and size in your fleet.
It is absolutely critical that bridge strikes are viewed with the upmost importance by your business, and your drivers, as the threat is all too real, especially as the seasons change from Autumn into Winter where the risk increases even more.
And by observing all these 7 key points, you and your drivers will not only significantly reduce the risk of a bridge strike, but also ensure you both stay safe from possible legal action and all the associated costs and implications that brings.
CONSEQUENCES OF A BRIDGE STRIKE
The Traffic Commissioner (TC) will consider the culpability of the operator and transport Manager, you may be called to attend a public inquiry (PI).

The TC could reduce, suspend, or revoke your Operator's licence.

Your Transport Manager could lose their reputation with impact on future employment.

Your driver can expect to be called to a hearing and may face a period of suspension.

Impact on your insurance premiums and even your ability to obtain insurance in the future.

Significant and wide-ranging direct financial costs – at minimum, vehicle replacement or repair and associated costs of preparation for attending a PI.

Commercial cost to the company's damaged reputation and brand.

Possible litigation to reclaim costs for bridge repair and compensation paid out to those affected.
Descartes recommends route optimisation software which maps data used assessing the size and type of vehicle on the route to ensure it will not have any problems with low bridges, low emission zones, narrow streets, get in touch here to find out more.
Road Skills Online recommends their Bridge Strike Course provided free of charge, to the industry. Protect your business whilst reinforcing the message to drivers of why bridge strikes happen, their consequences and how to avoid having them, click here to get Bridge Strike Course.
Want to learn more?
Discover more about final-mile delivery solutions and daily car safety check solutions from SmartCheck.
Discover more about how to help your business meet your O licence obligations and why driver professional development provides company core benefits whilst improving road safety by using the Road Skills Online DVSA Recognised e-learning solutions.